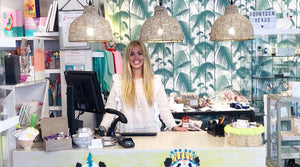 Q&A with Indian Summer
Ruth Green has been running the Fulham Roads famous pink shop, 'Indian Summer' for nearing 15 years. Once voted by Vogue as one of the top 100 Best secret shops, and with 2 small children of 2 & 4 in tow, it has been an exceptional journey for this entrepreneurial working mum who founded her shop at the age of just 20. We meet up with Ruth to find out more.

A day in the life of Ruth: How does it start?

With my children. Little ones coming in to wake me up – so mummy duties from 6am. Toby my husband is out the door for 6.45am. Then onto emails, either at home, or at the shop in time for opening, but I get a lot more done from home. It's quite hectic getting the kids up & everyone dressed but Kelly, my lovely nanny, helps me with the chaos of breakfast, as does a lovely strong coffee.

Indian Summer has become a local institution and much more than just a shop- was this an ambition of yours, and did you have a master plan in mind?

I knew from a young age that I would love the opportunity to run my own business. A shop, a café….My Dad is very entrepreneurial and I just loved the idea of having my own little thing. I headed to Cardiff university straight after school with the good intention of studying a fairly wishy washy degree, but found it didn't really suit me and left. I winded back in London with a few random jobs just figuring out what I wanted to do and one of these jobs was a Saturday Job right here, in Indian Summer, which at the time sold really beautiful Indian rugs. The owner, whom I had a lovely relationship with, it transpired, wanted to sell her business - and amidst her plans in doing so, one day approached me to say that she saw a lot of herself in me, and asked me if I would consider buying the business. I sat my parents down at the age of 19 finding this all very amusing, and my Father, probably desperate to find me something to do, declared it a done deal! I remember my boyfriend at the time panicking about us never being able to travel again. It was a gigantic leap and I had no idea what the outcome would be, but I started going to trade shows and eventually got the hang of developing stock, building my confidence and my relationship with my customers, putting together things that I thought were cool or pretty, and just trusting that my market would be 'me'.

It has been noted that you have a fantastic eye for upcoming trends, exciting new brands, and affordable luxuries. What keeps you inspired?

I've actively stayed away from anything that is trend lead. Trends and fashion are short lived and quite a 'young' thing. I've instead tried to create what's 'us', as the Indian Summer brand. I definitely get really excited about getting new brands in and, as the majority of our customers are regulars, it's really important to keep things changing. Even if I get attached to a brand or agent. I've recently started going back to Paris tradeshows which is my current source of inspiration. After 14 years of doing such tradeshows, it's important to keep your love for it.

Your style: How would you define it, and what it means to you?

My style is, although not super trendy, important to me. It is my identity and it is how I feel. When you make that little effort, even if you are in hurry, which I often am, it goes a long way. I'm definitely very feminine – love a blouse, and I definitely value clothes you can live in, be a mummy in, that are easy to throw on. Fashion makes you feel good, so I do place some level of importance on that.

In your opinion, where is the retail industry headed?

It's hard. There's previously been talk of the retail market collapsing - the recession being a particularly poignant time, but it is currently changing so very quickly. There are so many shops coming and going, it is often sink or swim. We are really really lucky to have such a loyal customer base, who genuinely feel passionate about the shop, and feel it is a little bit theirs – which I love. I feel very blessed. I think because we offer a real mix, and are an independent boutique, we have more freedom and flexibility than most shops in London and makes us a rare novelty. I think we also offer more than just an impulse buy – a unique personal experience, in which we will genuinely ensure the customer leaves with a beautifully wrapped gift. Hopefully all these little things will stand us in good stead. Hopefully Amazon will not kill all small retailers.

What is your most OCD habit?
I wish I had more of them! I am the total opposite of OCD!! But I like to think that I have stood the test of time because I have gone at my own pace….

Favourite part of your job and why?
I feel really blessed that I genuinely love almost every aspect of the shop. Every day in the shop makes me happy. Buying is probably top of the list, as is seeing the deliveries arrive and opening up the boxes, and there are days I love nothing more than chatting to customers on the shop floor! I really notice the difference in energy during my days away from the shop – there is just so much going on, it's really energising, and I have always appreciated in the past being able to park whatever else is going on in my life and get on with what's happening in the shop.

We finish the interview and you step outside the office to find a lottery ticket that ends up winning you £10 million. What do you do with it?

I'm buying myself a lovely big rambling house in the countryside for weekends, escaping to Ibiza for a large part of the year, and gifting some to my family. And I am definitely keeping the shop!
---